This 'Inspire Me' post is taking a little bit of a dark turn.
With Halloween approaching fast
I wanted to use something scary to inspire this bead selection.
The shops are full of the usual pumpkins, ghoules and ghosts
but my mind was drawn back to something that really scared me.
The 1979 film Alien.
Now that really is the stuff of nigthmares,
as I am sure those of you that have watched this film will agree!
Here is my selection of Alien inspired beads: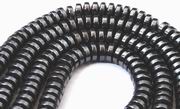 Lava and Hematite rondels available from
Mr Bead
.
Hematite chip strand from
Spoilt Rotten Beads.
And of course no project inspired by the film Alien
would be complete without Jones the cat!
From
The Great Big Bead Shop
Jones?, ...Jones?.......Jonesey?...........